Recently I was playing a short stint as a well-known Bridgeport premade because I didn't like where the game was taking him. Rafael is Richie's younger brother for those not familiar, I did give him a makeover so you might not recognize him by his thumbnail.
Anyway, divorced from his wife and now living with one of his young kids and his brother's family for a while, the poor guy looked lonely. I couldn't very well have him do up a computer dating profile as I take it his Technophobe trait would have made that a disaster so I sent him to the Day Spa to use the Matchmaker service, a feature I almost never use.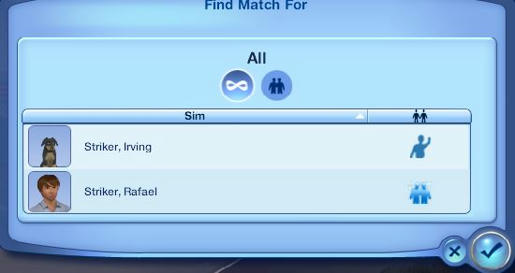 I guess I don't mind that the Matchmaker service has branched out and is trying to win over members of other species as customers now. Maybe it always did and I never noticed. I would hate to think what happens if they are told to call up their favored choices on their own and chat after being interviewed if they lack the dexterity to manage a telephone dial or keypad.
But Irving is
a baby!
Well, a puppy but in any event not ready for such adult forms of socialization. I was shocked, appalled, gasped and clutched my pearls in horror when I saw this (when I finished laughing
). How could such a thing be allowed to happen? Or is this form of marketing all a perfectly innocent way of paying tons of Simoleons to find another puppy in town for ours to play with?
I went with the Rafael option on that menu since that is who I had choosing the service in the first place and was relieved to see that all of his potential matches were of an appropriate age and none of them, except maybe the occasional werewolf, were canine. Phew.